Page Menu
Covid Detect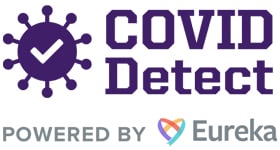 Understanding how COVID-19 tests work at different stages of infection.
Brought to you by: the National Institutes of Health Rapid Acceleration of Diagnostics (RADxSM) initiative.
What is the COVID Detect study about?
Researchers are studying COVID-19 to better understand:

How well different tests work to detect Covid-19 both early and late during infection.
How Covid-19 symptoms and the potential for transmission can differ between people and over time.
Researchers are collecting and storing samples for future research about the virus that causes COVID-19 and related viruses.
How does it work?
Participants receive a kit to collect their own samples each day.
A trained observer guides collection of the samples remotely by video or FaceTime.
Sample collectors pick up the samples from participants.
How can people help?
By providing daily samples for two weeks.
By completing a daily online form about their symptoms in a computer application called Eureka.
Will participants get the test results?
Participants will receive the results of the standard COVID-19 test within one week.
Participants will not receive results from tests done with biobank samples.
How does this research help me and others?
There may be benefits for participants being tested for COVID-19.
Participating in this study helps researchers address the public health challenges of the COVID-19 pandemic.