Page Menu
COVID-19 Test At Home Efficacy Study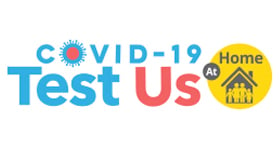 Test the accuracy of a COVID-19 test for use at home.
Brought to you by: the National Institutes of Health Rapid Acceleration of Diagnostics (RADxSM) initiative.
What is the Test At Home study about?
Researchers are studying individuals who:
Do not have COVID symptoms.
Have been exposed to someone who tested positive.
Use a smartphone application daily to participate in the study.
Take a home test daily.
How does it work?
Participants will receive step-by-step instructions for using the test kit.
Participants will need access to a cell phone with a camera.
Participants will use an app to report your test results and any symptoms on a daily basis.
Participants will complete a usability survey on their experience at the end of the study.
How can people help?
Participants will be instructed how to collect a daily sample for two weeks.
Participants will be asked questions about their experience with COVID at the beginning of the study.
Participants will need to have a personal smartphone with a camera (both iPhones and Android phones can be used). Joining the study will require downloading an app and sending information to the study team. Participants may be charged by their data plan for sending this information.
Will participants get the test results?
Participants will get the results of the standard test only.
How does this research help participants and others?
There may be benefits for participants who are tested for COVID-19.
This research will help scientists:

Make new discoveries about COVID-19 and related viruses.
Develop new tests, treatments, and vaccines.